Today marks the beginning of Exercise With Your Child week, a national initiative to create active, healthy kids (and parents, too!). Kids and adolescents should get at least 60 minutes of physical activity each day. While this can be achieved during active play, there are benefits to exercising with your children.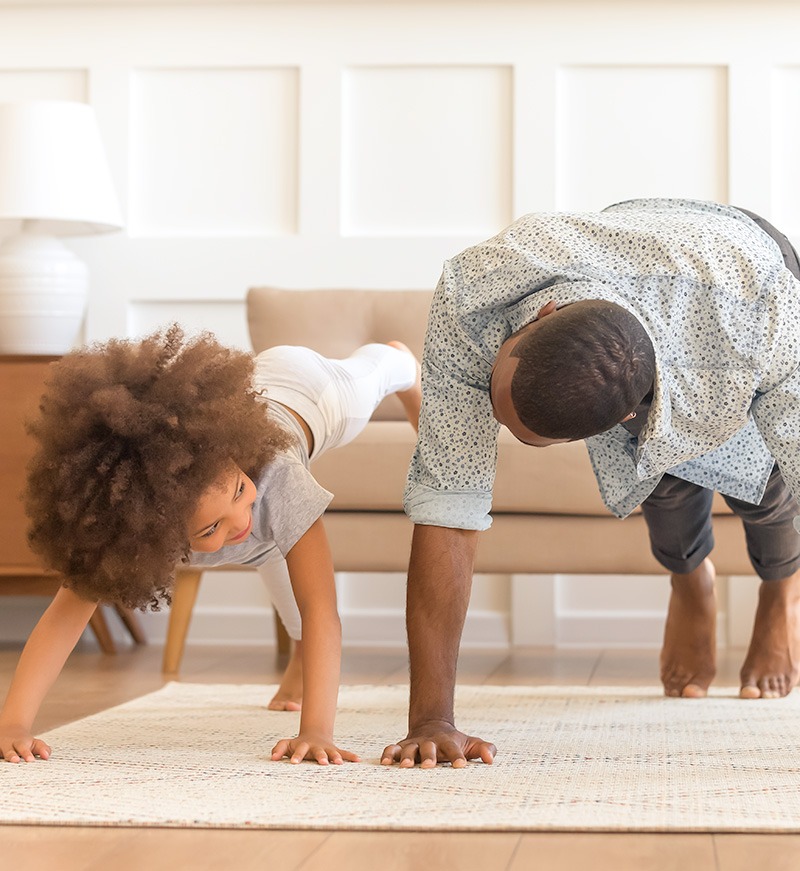 Setting a positive example for physical activity at a young age establishes healthy habits for kids and reinstills (or starts!) healthy habits for adults.
Exercising with your children is an opportunity for quality time, one-on-one or with the whole family.
Children are creatures of routine, and creating an exercise routine with them will help keep you accountable for getting exercise in. 
Here are some tips for exercising with your kids:
Make it a routine: Establish exercise as part of your daily activity. Humans are routine-driven, especially children. If you incorporate exercise as part of your family schedule, you will be more likely to keep it up long term.
Make it fun: We are more likely to stick to habits when we enjoy them. You can start with outdoor activity like riding bikes, or play active games like tag, or introduce kids to new sports. As children age, they may begin to appreciate more structured exercise, like running or strength training.  
Keep active equipment at home: Keeping a variety of balls, jump ropes, yoga mats, or other active gear around and encouraging kids to use the equipment establishes that being active can happen anytime, and not just during scheduled exercise times.
Utilize area resources: Establishing a routine doesn't mean it has to be boring. Take advantage of parks to play, hiking trails for hiking or bike riding, pools for swimming, and more! You can even take turns letting different family members choose the activities. During the pandemic, make sure that any place you visit can accommodate social distancing, and make sure you wear your masks.
Limit sedentary activities: Watching TV and playing video games are sedentary activities in which kids and adults can lose track of time. Set a good example and limit the amount of time for these activities for everyone in the household. And then head outside or find other activities to participate in!
Set goals: Whether they are friendly competition (like who can jump rope longest) for younger ages, or serious training goals (like running a 10k) for older ages, setting goals can be very motivating. Just make sure to follow tip #2 and keep it fun!
If you don't already have an exercise routine with your kids, start enjoying exercising together this week!