What is chest pain?
Chest pain is any kind of pain that starts somewhere in your chest, but it can also travel up into the neck or out into the back and shoulders. Chest pain can be experienced in a wide range, from feeling like a dull ache, a burning sensation, sharp pain, or heavy/crushing. It may be constant, or it may increase in intensity with movement or breathing. Chest pain can be caused by very serious conditions, such as a heart attack or a blood clot in the lung, but it can also be caused by heartburn, esophageal problems, panic attacks, and even issues with your musculature and bone structure. While there are many causes of chest pain, because your lungs and heart are located in your chest, and there is no easy way to determine a cause, you should see a doctor to address chest pain. 
What are the different types of chest pain?
Chest pain caused by issues with your heart, such as that from a heart attack, is often described as pressure or tightness in the chest, possibly with a burning sensation or a crushing pain that can radiate to the neck, jaw, back, shoulders, and one or both arms. Symptoms of heart-related chest pain are:
The pain is lasting, or intermittent and often intensifies during activities
Shortness of breath
Cold sweat
Weakness
Dizziness
Nausea or vomiting
If you feel you, or someone near you, is having a heart attack, it is important to seek medical attention immediately. Heart attack pain will not be relieved by changing positions, taking pain medication or antacids, breathing deeply, or exercising. 
Sometimes chest pain can have causes not related to your heart, and sometimes it can be difficult to determine the difference without medical equipment. However, there are some symptoms that are less likely to be caused by heart-related chest pain, such as:
Heartburn-related symptoms, like a sour, bile-like taste in the mouth
Difficulty swallowing
Pain that becomes noticeable or more intense with breathing or coughing
Tenderness when pressure is applied to the chest
Do children experience chest pain?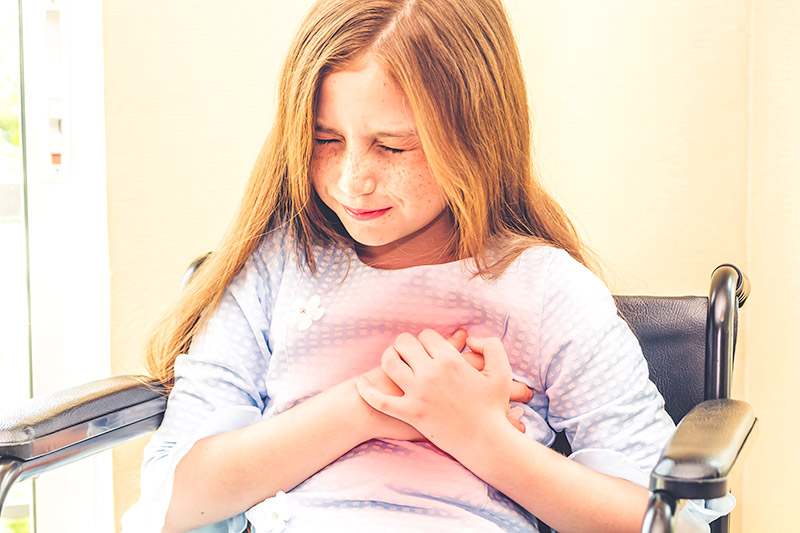 Children can sometimes experience chest pain, and sometimes for different reasons than adults. Most often, the pain that children experience is not due to a serious condition. Commonly, chest pain in children is due to muscle or joint pain caused by exertion, an unusual movement that may cause a strain, or inflammation. There is also a syndrome called Texidor's Twinge that can cause a sudden intense pain, usually on the left side of the chest, that most often occurs while the child is at rest. No one knows the cause of Texidor's Twinge, but it is not serious, and not likely to be connected to the heart. 
Chest pain in children that IS a cause for concern can have some of the following symptoms:
The pain is intense
It is long-lasting
Pain onset is due to or during physical activity
Pain is accompanied by fever
Pain is accompanied by dizziness, difficulty breathing, or fainting
Whether a child or an adult, if you are concerned about the chest pain you or a loved one is experiencing, seek medical attention. Quickly seeking emergency medical care for severe heart and lung issues, especially heart attacks, can save lives. 
Excellent!!!! I recently made an appointment online and then visited Neighbors Emergency Clinic in Kingwood. They were so courteous and professional. The team helped me and other customers expeditiously making each of our situations seem of the utmost importance. Absolutely great experience..

– Beatrice