Neighbors Emergency Center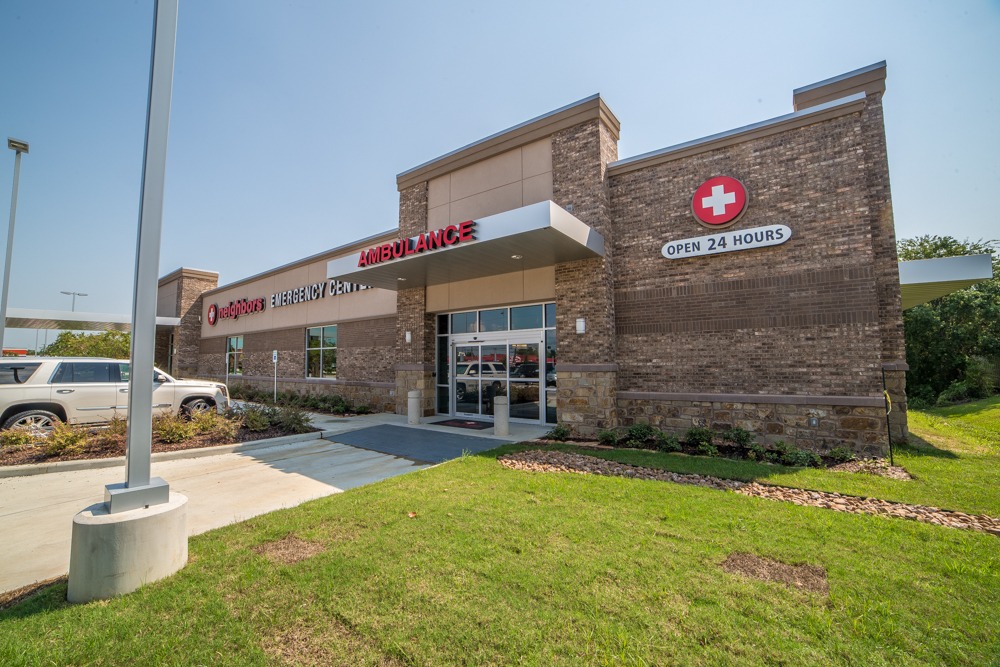 Open 24 Hours: Get Treatment Now!
Our Services
Get the help you need now for any emergency! Our facility provides care for:
Headaches & Migraines
Stomach Pain & Abdominal Pain
Vomiting & Diarrhea
Chest Pain
Tachycardia & Rapid Heart Beat
High Fever
Dehydration
Heat Stroke
Infections
Rashes
Allergic Reactions
Blood Clots
Arthritis & Joint Inflammation
Flu
Pneumonia
Bronchitis
Sinusitis, Sinus Infections, & Sinus Blockage
Emergency Dental
Broken Bones
Sports Injuries
Cuts & Lacerations
Head Injury
Difficulty Breathing
Stroke & CVA
Mini Stroke & Transient Ischemic Attacks
Seizures
Burns
Sprains, Strains, & Dislocations
Fractures & Broken Bones
Sports Injuries
Cuts & Lacerations
Head Injury
Back Pain & Sciatica
Insect Bites & Stings
Dog or Animal Bites
Falls
Seizures
Removal Foreign Bodies
Motor Vehicle Accidents
And More!
We also offer on-site access to:
CT Scan
X-Ray
Ultrasound
In-House Laboratory Services
COVID Testing (Rapid PCR and Antigen)
Get Treated Fast: No Wait Times!
Insurance
While our facilities are not participating providers in any in-network health benefit plans other than BlueCross BlueShield, Aetna, Cigna, and Medicare, we see patients with all types of insurance plans. Additionally, we are actively working to find ways to accept as many different provider plans and/or participate in in-network contracts. We will continue to update this page, and our locations pages with more information about any in-network provider plans we participate in.
We welcome all private insurance plans and will work with your insurance provider to coordinate benefits at an in-network rate.
BlueCross BlueShield
Aetna
Cigna
United Healthcare
Humana
TUFTS
Medicare
No Surprise Medical Bills!
We've got good news: the "No Surprises Act" took effect at the beginning of this year! Most unexpected medical charges from out-of-network providers are banned by this legislation, meaning you are now protected from surprise billing.
The protections will work similarly to those established by the state of Texas, and the new federal rules will apply to all private insurers, including those provided through the Affordable Care Act.
Insurance companies are also required to provide the same coverage regardless of whether you receive medical attention at an in-network or out-of-network facility.
About Neighbors Emergency Center – Crosby Emergency Room
Crosby is known for its rural atmosphere and tight-knit community. The vibrant area boasts a wonderful mix of residential neighborhoods, farmland, and commercial establishments and offers a more laid-back and suburban lifestyle compared to the hustle and bustle of Houston.
Residents of Crosby often enjoy various outdoor activities, including fishing, boating, and hiking. The community has many parks, sports facilities, and recreational areas for locals to enjoy, as well as local events and festivities that bring the community together, such as fairs, parades, and other gatherings celebrating the area's culture and traditions.
Neighbors Emergency Center in Crosby, Texas, is a leading healthcare facility dedicated to providing top-quality emergency medical services to the surrounding community. Situated in Crosby, Neighbors Emergency Center provides patients with access to a state-of-the-art facility, a highly trained staff, and a patient-centric approach to emergency room care. Committed to delivering exceptional care to each member of the community, Neighbors Emergency Center ensures that patients receive prompt and compassionate attention in a comfortable and welcoming environment.
From minor injuries to life-threatening conditions, you can rely on your Neighbors ER to handle a wide range of emergencies.
Get a Free Medical Screening from Neighbors ER Crosby!
Reviews
From the beginning, the receptionist was so nice. Went in and out in less than an hour. The nurse was so sweet and made sure she listened to my symptoms. The doctor was so attentive and performed a thorough exam. I could tell he was compassionate. I also liked that he went over the different treatment plans with me and took my input in deciding which course of treatment would be best. The nurse assistant was also very sweet. I could tell everyone worked great as a team, and they enjoyed being at their job. I would highly recommend anyone to come here.
Alondra B.
Neighbors Emergency Center offered a free CPR class, and I immediately signed up. Serving in my church's nursery, I knew this would be great to have. They were very friendly and accommodated my 11-month-old, who had to join me. They were very informative and educational. I appreciate Neighbors offering this certification class. I will be back again.
Abigail A.
Thank you Crosby Neighbors for making us feel so welcomed and like a top priority. Johanna helped with the majority of my paperwork, and we got taken back quickly. Nurse John and Jennifer tended to my baby boy so well. Thank you, Dr. Freeborn, for being awesome at what you do.
April C.
Neighbors is my go-to emergency center! I love having it so close to home. We've been here for COVID testing, my daughter's dislocated elbow, and when my husband had an IV infection. Every single time we have had phenomenal and efficient service. The staff and doctors are always helpful and never leave a question unanswered. 10/10 recommend.
Ashley M.
I highly recommend this facility. I always leave here feeling as though my concerns have been addressed and that I have been given the best and most appropriate treatment. The staff is always so friendly, and the facility is extremely clean. Thank you!
Alexis R.