Meet the Docs Helping Neighbors to Make Lives Better
National Physicians Week celebrates the doctors who have dedicated their lives to healing and the art of medicine. At Neighbors, we are proud of the phenomenal physicians that promote our mission of providing extraordinary healthcare in the community. To celebrate our physicians, we'd like to introduce you to a few of the docs that make your local Neighbors Emergency Center the best Neighbors ever. 
Dr. Eric Roberson, MD, MBA
Executive Medical Director
Dr. Roberson is the Executive Medical Director, overseeing all the physicians at our Neighbors Emergency Center locations. 
Dr. Kashif Siddiqui
Facility Medical Director, Baytown
Fellowship trained at Baylor College of Medicine, Dr. Siddiqui has no shortage of experience when it comes to true patient care. Working as an ER physician for more than a decade, he's someone patients can count on in times of need. Dr. Siddiqui finished his residency from UT Southwestern at Dallas. Dr. Siddiqui enjoys mentoring medical and Nurse Practitioner Students. 
During his free time, Dr Siddiqui enjoys spending time with his family and flying! Being such a great teacher and leader, cross paths with him and you won't walk away with nothing.
Dr. Alberto Gonzalez, MD
Facility Medical Director, Porter
Dr. Alberto Gonzalez is seen here, in his natural state – he always has his hand in the candy jar!  He loves all things chocolate and pizza. Dr. Gonzalez has been the Facility Medical Director for our Porter Neighbors Emergency center since 2019.  He graduated from LSU in 1995 and completed his residency at Texas Tech University.  
He has a big sweet tooth, but a bigger heart – the Porter community knows him for his frequent travels to places such as Honduras and Nicaragua for medical mission trips. 
Dr. Cyril Gillman, MD
Facility Medical Director, Crosby
Dr. Gillman is the Facility Medical Director of Neighbors Emergency Center in Crosby. He has been an ER physician for 19 years, and with Neighbors for almost 10 years. His favorite part about working in the ER is helping patients feel better.
In his spare time, he loves spending time with his family, cycling, and doing anything involving sports!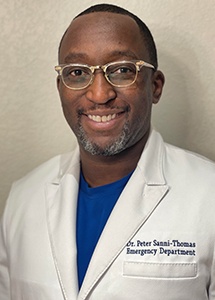 Dr. Peter Sani-Thomas
Facility Medical Director, Kingwood
Dr. Peter Sanni-Thomas attended medical school at the Philadelphia College of Osteopathic Medicine in Philadelphia Pennsylvania. He completed his residency at St. Barnabas Hospital in the Bronx, NY, and has been practicing medicine for 20 years.
In his free time, he enjoys running, cycling, traveling, and spending time with his wife and family.
Dr. Isaac Freeborn, MD
Facility Medical Director, Pearland
Dr. Isaac Freeborn delivers sound medical care by showing compassion, care, patience, and charm along with a great sense of humor! Dr. Freeborn places the patients at ease, dispels their anxieties and fears, and brightens their day with his genuine concern and award winning smile. 
Dr. Freeborn is a great leader, ensuring the community is being well taken care of when they enter our emergency center. 
Wish Our Doctors a Happy National Physicians Week!
National Physicians Week is all about honoring the doctors who help take care of our communities every day. And now, after two years of a global pandemic, it's more important than ever to recognize and celebrate the healthcare professionals keeping us all safe and healthy. If you visit one of our Neighbors Emergency Center locations March 25-31, be sure to wish your doctor a Happy National Physicians Week! We're proud to be your Neighbors.